How to Access Free San Francisco WiFi
Here's everything you need to know about accessing free San Francisco WiFi service across the city.
Did you know that the City and County of San Francisco offers free WiFi service in dozens of parks and other areas around the city, allowing residents and visitors alike to stay connected without draining their data plans?
Read on for all the details, including a map showing the WiFi locations and instructions on how to access the free Internet service.
San Francisco WiFi Map
The map below shows the locations that free wireless Internet can be accessed in San Francisco.
As explained in a recent tweet from the City of San Francisco, free WiFi is available along Market Street, at the San Francisco Public Library, and in 33 parks throughout the city.
You can view a complete list of parks where WiFi service is available here. You can also click here to view a larger, interactive map of San Francisco's WiFi locations.
How to Connect to San Francisco WiFi
Connecting to the city's free wireless Internet service is as easy as 1-2-3:
Select the WiFi network named "#SFWiFi"
Launch a web browser (such as Safari or Chrome)
Click the button to accept the terms and conditions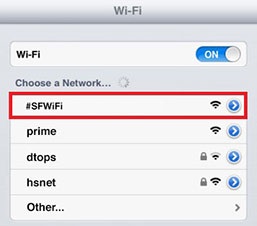 * Please note that the old network called "_San_Francisco_Free_WiFi" is no longer available.
More Information about San Francisco WiFi
If you have any questions regarding San Francisco's free WiFi, please check out the #SFWiFi FAQ.